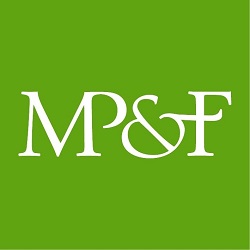 Job Description
The Agency Marketing Manager builds and leads the execution of our in-house marketing efforts in collaboration with others in the firm, including partners, senior and junior staffers, and outside consultants as needed.
The Agency Marketing Manager will use content marketing strategies and other digital-first tactics to tackle marketing on behalf of the agency's business development efforts.
Responsibilities for this role include:
Support MP&F's business development efforts in collaboration with other senior staffers and partners.
Lead the strategy and execution of MP&F's blog and social media channels. Work with colleagues to deliver content that is bold, attention-grabbing, and carefully targeted to key audiences and stakeholders.
Develop and work with colleagues to create, post and manage valuable digital content that is relevant, interesting and carefully targeted to key prospects.
Coordinate with MP&F's creative and analytics teams to update MP&F's website, analyze performance and optimize for SEO.
Lead the strategy behind our email marketing/outreach efforts. Work with the creative team and others to execute, track and follow performance.
Coordinate with MP&F's marketing and advertising teams to conceive and execute media buys in support of MP&F's business development needs.
Coordinate with senior staff and partners to develop, execute and promote marketing events (digital and in-person) in support of business development efforts.
Help identify opportunities for speaking engagements, panel discussions and opportunities to serve as thought leaders on behalf of the MP&F team.
Required Skills and Professional Expertise
8-plus years of marketing or business development experience in a marketing, advertising, PR or integrated communications agency
B2B marketing experience required
B2B, performance marketing, customer marketing, martech experience desired; experience across all platforms is not expected
Experience with CRM/ESP platforms required; experience across all platforms not expected
Superior project/program management skills
Proven track record and experience developing and executing internal and external marketing campaigns and communications strategies that deliver an ROI
Persuasive and goal-oriented
Sensitivity to and respect for working in confidentiality
Excellent oral and written communication skills
Bachelor's degree in communications, journalism, marketing or related field
To Apply
Submit a cover letter with salary history and a resume via the "Apply Now" button at mpf.com/join-the-team.
About MP&F
MP&F is an internationally recognized, full-service integrated communications firm based in Nashville, Tenn. Our clients work in a variety of industries – including health care, hospitality and higher education. We were established in 1987 as a one-person consultancy and today are a team of 70-plus strategists and specialists from myriad professional backgrounds and walks of life. When you join MP&F, you are joining a culture of excellence, hard work and success.
Location Requirement: Nashville-based MP&F offers flexible work-from-home hours.
MP&F requires that all employees be fully vaccinated against COVID-19. All new employees will be asked to show proof of COVID-19 vaccination within 30 days of employment.
MP&F Strategic Communications is an equal opportunity employer. We do not discriminate on the basis of race, color, sex, sexual orientation, transgender, gender identity, pregnancy, religion, age, national origin, disability, veteran status, citizenship, genetic information or other protected status under federal, state or local law.
Other jobs you may like
1001 Gallatin Ave, Nashville, TN 37206