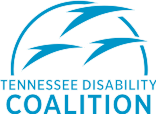 Job Description
Title: Visual Brand Coordinator
Immediate Supervisor: Director of Communications & Technology
Full-Time
Position Summary:
The Tennessee Disability Coalition (Coalition) is seeking qualified applicants for a full-time Visual Brand Coordinator Position. Under the direction of the Director of Communications & Technology, this individual will be responsible for managing social media, videography and storytelling efforts to further the mission of the organization: to promote the full and equal participation of people with disabilities in all aspects of life. This individual must be comfortable working within a mission-driven not-for-profit organization.
Qualifications:
2 years minimum experience preferred, but not required.
Excellent writing skills
Excellent computer skills
Skilled in graphic design, Adobe Creative Cloud and/or preferred graphic design software
Skilled in video production, editing and software such as Adobe Premiere Pro and/or Final Cut Pro
Exceptional interpersonal skills with the ability to build and maintain trust
Must have the ability to handle a variety of assignments within a given timeframe and with minimal supervision
Must have the ability to interact effectively with individuals from diverse backgrounds and cultural traditions
Primary Duties:
Manage and support execution of all visual elements of the Coalition's brand. Included but not limited to managing social media, videography and graphic design.

Assist in developing communications strategies
Work with Program Directors to support their communications goals
Manage Coalition social media accounts (Facebook, Instagram, Twitter, YouTube, LinkedIn)
Manage video production and editing
Manage Coalition storytelling initiative
Website content management
Search Engine Optimization and analytics management
Development of promotional and informational materials
Assist in event planning
Email marketing
Other duties as assigned
Contact Information and Procedure:
A cover letter, resume, and sample of your work must be submitted via email to: coalition@tndisability.org
About the Coalition 
Founded in 1990, the central purpose of the Coalition is to advocate for public policies that promote equal opportunity, economic self-sufficiency, and independent living for children and adults with disabilities. With programs, policy and purpose we are creating a society that values, includes and supports people with disabilities.
The Tennessee Disability Coalition is committed to providing equal opportunities to volunteers, employees, applicants for employment and those seeking our services, consistent with Title VI of the Civil Rights Act of 1964.  No person will be discriminated against because of race, religion, creed, color, sex, age, genetic information, national origin, sexual orientation, gender identity, veteran status, disability or Limited English Proficiency (LEP). In compliance with the American Disabilities Act, The Tennessee Disability Coalition will provide reasonable accommodations to qualified individuals with disabilities, and encourages both prospective employees and incumbents to discuss potential accommodations. The TDC requires that each employee adhere to the same standard of non-discrimination. Each employee is required to have a signed Non-Discrimination Policy statement on file.
Required skills
Other jobs you may like