Copy written and provided courtesy of PRSA Nashville member, MP&F Strategic Communications via MPF.com.
Campaign To Combat Tennessee's Opioid Epidemic Wins Best of Silver Anvil at the Public Relations Society of America's Annual Awards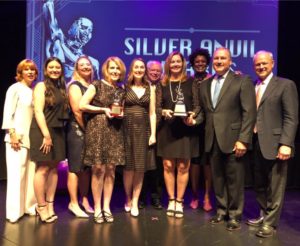 BlueCross BlueShield of Tennessee and MP&F Strategic Communications were awarded Best of Silver Anvil at Thursday's Public Relations Society of America's annual awards ceremony in New York City for their efforts to combat Tennessee's opioid epidemic through the "Don't Be An Accidental Drug Dealer" public education campaign. The award is the nation's top communications industry honor.
"Over the course of two years, this campaign greatly increased awareness of the opioid epidemic and contributed to close to 50 tons of pills being removed from circulation in Tennessee," said Roy Vaughn, APR, senior vice president, chief communications officer, for BlueCross. "We are proud of our team and our agency, MP&F, for the great job they've done. It's an honor to be recognized as the stand-out campaign among so many excellent projects from some of our nation's best communicators."
In 2015, the opioid epidemic was ravaging Tennessee, and BlueCross covered more than 1 million opioid prescriptions for its members. BlueCross committed to being part of the solution, and called on MP&F to find a community organization it could partner with to raise awareness about the importance of prevention in the battle against opioid abuse.
MP&F identified Count It! Lock It! Drop It! (CLD), a program for prescription drug misuse prevention created by the Coffee County Anti-Drug Coalition in Manchester, Tenn., as a partner for the initiative. In 2016, the BlueCross BlueShield of Tennessee Health Foundation awarded a $1.3 million multiyear grant to expand CLD to 44 counties in the state identified as "hot spots" for opioid abuse. MP&F implemented a full-scale public education campaign to encourage Tennesseans to count their prescription pills, lock them up, and drop off unused or expired pills at a permanent drop box or Take-Back Day event.
"This is a significant honor for BlueCross BlueShield of Tennessee and MP&F, and a well-deserved one," said PRSA 2018 National Chairman Anthony D'Angelo, APR, Fellow PRSA. "Competing against more than 100 high-quality entries from across the nation, the CLD campaign stood out for its research, planning, execution and, most important, the results it produced in the fight against the opioid epidemic, one of the nation's most serious problems. It honorably demonstrates the impact our profession can have."
Since the kickoff in August 2016, campaign highlights include:
More than 105,000 pounds of pills collected in Tennessee during three DEA National Prescription Drug Take-Back Day events and at permanent prescription drop boxes. Sources: US DEA and Tennessee Department of Environment and Conservation
4 million media impressions
29,821 website visits, including 14,324 website visits to the drop box finder – a conversion rate that exceeds other similar call-to-action campaigns related to nonprofits and public education
Facebook reach of 642,214
Statewide appearances by campaign ambassador Miss Tennessee 2017 Caty Davis
Partnerships with anti-drug coalitions across the state
"Our team is incredibly proud to be part of a project that created real change in our state," said MP&F partner Jennifer Brantley. "Working hand in hand with BlueCross and Count It! Lock It! Drop It!, we successfully mobilized Tennesseans and inspired them to do their part in the fight against opioid addiction. We look forward to continuing to work with BlueCross and other clients around the country on projects that make a difference in communities."
This is the seventh Silver Anvil for MP&F, the second for BlueCross and the first Best of Silver Anvil for both companies.
Established in 1945, the Silver Anvil Awards are the most prestigious awards in the communications industry. For 73 years, the Silver Anvil has recognized industry leaders, from solo practitioners to large agencies, small businesses to Fortune 500 companies, and not-for-profits to major government agencies. In addition to a Silver Anvil in the Public Service category and Best of Silver Anvil, the campaign also received a national Gold Sabre Award, which is presented by industry trade publication The Holmes Report, and recognizes superior achievement in branding, reputation and engagement.
For information about MP&F  Strategic Communications clients and services, click here.