Barcelona Principles 3.0, presented during the AMEC Virtual Summit by Ben Levine, Director & Partner, TRUE Global Intelligence and AMEC Board Director.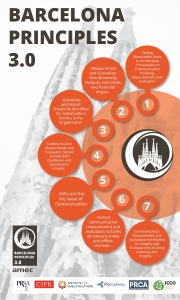 The 2020 evolution of the globally trusted Barcelona Principles will sharpen the communications industry's focus on inclusion, impact, and integrity.
It is ten years since the Barcelona Principles first presented an industry-wide consensus on measurement and evaluation, and five years since its last update. In the fast-moving communications industry, much has changed in that time.
Reflecting this, Barcelona Principles 3.0  acknowledges that common practices in 2010 – even 2015 – may now be outdated, with game-changing shifts particularly over the last 2-3 years. Furthermore, it has broadened its relevance to a wider and more diverse range of organisations and roles to reflect that measurement and evaluation best practice is equally essential in government communications, charities, NGOs, and other non-commercial entities.
Barcelona Principles 3.0: an explanation
Setting goals is an absolute prerequisite to communications planning, measurement, and evaluation.
The founding principle of SMART (specific, measurable, actionable, relevant, and time-bound) goals as a foundation for communications planning has been promoted to an essential prerequisite. It pushes measurement and evaluation as a core component of the planning process, articulating target outcomes and how progress towards these will be assessed.
Measurement and evaluation should identify outputs, outcomes, and potential impact.
Previously, the Principles recommended measuring outcomes, rather than simply counting outputs. The updated principles extend this to consider longer term impact of communications strategy. According to Levine, this means thinking about "the channels we are impacting, and change we would like to see through campaigns, events and activations."
Outcomes and impact should be identified for stakeholders, society, and the organization.
From the original focus on business metrics, such as sales and revenue, the 2020 update embraces a more holistic view of performance. It allows the model to be more inclusive of a broader range of organisations and communications roles that are not necessarily profit-driven.
Communication measurement and evaluation should include both qualitative and quantitative analysis.
"To understand the full impact of your work, it is crucial that you use the full suite of methods to measure those outcomes," summarised Levine in describing the evolution of this principle to not just quantify but also understand how messages are being received, believed and interpreted.
AVEs are not the value of communication.
The message remains consistent and clear; "we continue to believe that AVEs do not demonstrate the value of our work." It is important that communications measurement and evaluation employs a richer, more nuanced, and multi-faceted approach to understand the impact of communications.
Holistic communication measurement and evaluation includes all relevant online and offline channels.
Our founding principle that social media can and should be measured is so obvious today. The 2020 iteration reflects the game-changing shift in social communications' capabilities, opportunities, and influence, such that all relevant online and offline channels should be measured and evaluated equally. The AMEC measurement framework promotes clarity across earned, owned, shared, and paid channels to ensure consistency in approach towards a common goal.
Communication measurement and evaluation are rooted in integrity and transparency to drive learning and insights.
Sound, consistent, and sustained measurement calls for integrity and transparency in recognition of today's attention to data privacy and stewardship as organisations comply with new regulations, such as GDPR. This is also a statement that measurement isn't simply about data collection and tracking, but about learning from evaluation and applying insight back into communications planning. It recognises the need to be transparent about the context in which programmes are run and being aware of any bias that may exist in the tools, methodologies and interpretations applied.
Barcelona Principles 3.0 is the result of a true team effort across the world. They have evolved to be applicable to the world in which the communications industry and all who work within it now operate and will continue to develop for years to come.