Crisis Communications: Managing Cyber Risk - Luncheon Event
28sep11:30 am1:00 pmCrisis Communications: Managing Cyber Risk - Luncheon Event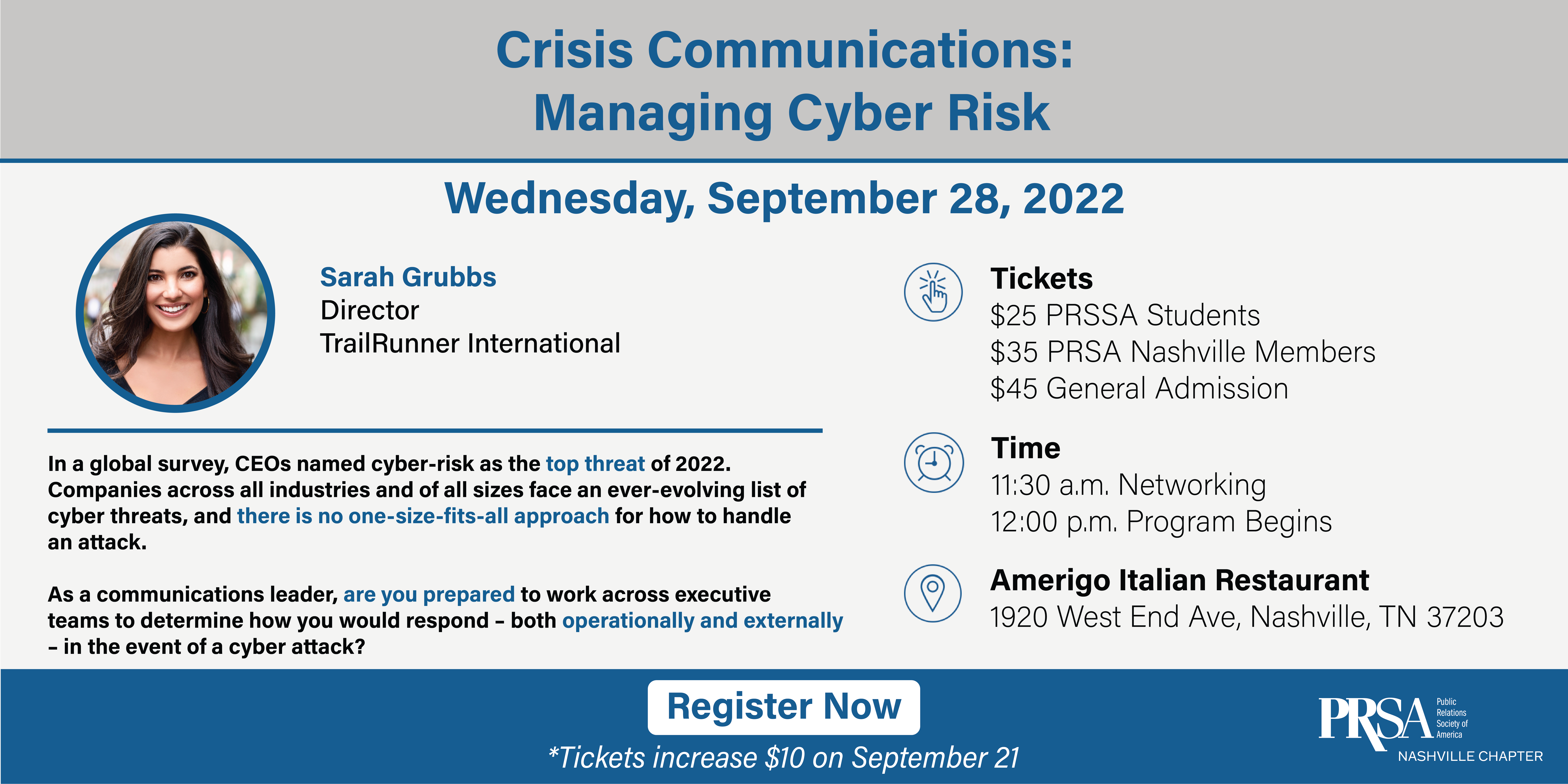 Event Details

EARLY BIRD PRICING ENDS Sept 21st

TICKET PRICES INCREASE TO:

General Admission $55 and PRSA Nashville Members $45
Crisis Communications: Managing Cyber Risk
In a global survey, CEOs named cyber-risk as the top threat of 2022. Companies across all industries and of all sizes face an ever-evolving list of cyber threats, and there is no one-size- fits-all approach for how to handle an attack. If handled poorly, a cyber event can cause substantial damage to an organization's reputation, consumer trust, and stock price or valuation. If managed well, however, an organization can move past the attack and sometimes even gain credibility with its most important stakeholders. Modern communications leaders must keep a pulse on the geopolitical climate, changing cyber threat landscape, and their organizations' specific vulnerabilities. In addition, communications leaders must work across executive teams to determine how you would respond – both operationally and externally – in the event of a cyber attack.
In this program, Sarah Grubbs, corporate communications leader and head of the Nashville office for global strategic communications firm TrailRunner International, will cover:
● What types of cyber attacks may affect my company?
● How can I best prepare my organization in the case of a cyber event?
● Who should be on my organization's incident response team, and how frequently should I be evaluating current risks?
● What are best practices and common missteps in responding to a cyber event?
● How should we as communicators balance demand for public response and lack of information following an attack?
● What should I consider after a breach – in immediate hours, next 24 hours, and longer-term?
● How should I consider the geopolitical landscape and when should I take preventative or precautionary measures?
Sarah Grubbs is a director for TrailRunner International and head of the firm's Nashville office. She advises clients on corporate positioning, international strategy and expansion, crisis preparedness and response, reputation and change management, and high-stakes situations such as IPOs, M&A transactions, regulatory issues, and executive leadership changes. She has led cybersecurity preparedness programs and responses for a wide range of clients, including large international conglomerates, Fortune 500 companies, newly public companies, public sector entities, and start-ups.
Time

(Wednesday) 11:30 am - 1:00 pm
Location

Amerigo Italian Restaurant

1920 West End Ave