Mastering Crisis Communications: Expert Roundtable
12sep11:30 pm1:00 pmMastering Crisis Communications: Expert Roundtable
Event Details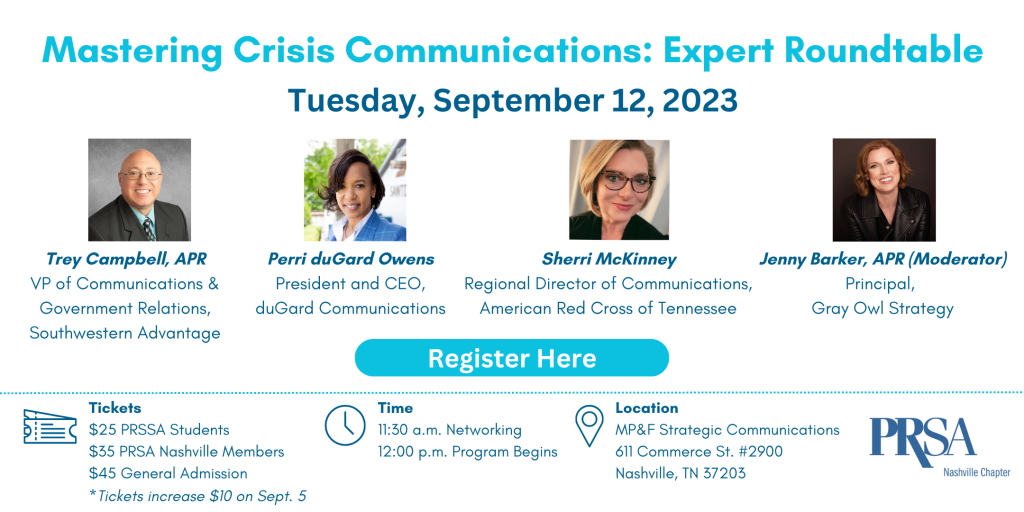 Join us for an insightful and dynamic Crisis Communications Roundtable where national industry experts and thought leaders converge to share their invaluable insights on managing and mitigating crises in an increasingly interconnected world. This engaging event will feature four distinguished speakers who bring a wealth of experience and knowledge to the forefront:
Trey Campbell, APR, Southwestern Advantage
Perri duGard Owens, duGard Communications
Sherri McKinney, American Red Cross of Tennessee
Jenny Barker, APR, Gray Owl Strategy (Moderator)
Learn more about our speakers below.
About Trey Campbell
Trey Campbell, APR, Vice President of Communications & Government Relations for Southwestern Advantage (est. 1868), has been with the company for 25 years. He is responsible for PR, government relations, crisis communications, reputation management, and community outreach. He has trained, mentored, and counseled over 40,000 college students to help them be successful in business and life.
In addition to being accredited in PR, he is a past PRSA-Nashville President, was a board member for many years serving many capacities, chaired the Parthenon Awards two times and is a winner of both the Mercury and Hercules awards. He is active in both his community and church. He is a past Forty-Under-40 winner by the Nashville Business Journal.
Trey is an author and speaker, with three published books. He is one of the founders and mission leaders of Metanoia Missions & Ministries, a nonprofit corporation focusing on international and domestic short-term mission experiences and long-term fundraising for those in need and at-risk. Trey has held various positions of leadership with such organizations and institutions as the Nashville Junior Chamber of Commerce, the United Way of Metropolitan Nashville, Belmont University – PR Major Advisor, the Better Business Bureau Serving Middle Tennessee & Southern Kentucky, and the Direct Selling Association, just to name a few.
About Perri duGard Owens
As Founder, President and CEO of duGard Communications, Perri dGard Owens is a professional with experience in the fields of marketing, communications, advertising and public relations. Her proven leadership skills, solid background in developing marketing strategies and demonstrated ability to achieve organizational goals have supported her clients since founding duGard Communications in 2008.
duGard Communications is an award-winning, strategic communications firm specializing in public relations, media relations, marketing and business development services to a broad range of brands, companies and non-profit organizations. It has developed a highly successful track record of building strategies tailored for individual clients that articulate key value, enhance growth and improve business success. Its clientele appreciate dGC's expertise and experience because we provide focused results coupled with creativity, agility and a commitment to accelerate client goals.
About Sherri McKinney
Sherri McKinney is a seasoned public relations executive with experience in corporate and non-profit communications, public relations, media relations and management. As Regional Director of Communications for the American Red Cross of Tennessee, she raises public awareness about the American Red Cross through media outlets, social media efforts and online influencers. McKinney also creates and leads volunteer-based communications leadership panels throughout Tennessee to assist with disaster response in the chapter areas served.
McKinney currently serves as a national and local media spokesperson and brand ambassador by pitching stories to media, including online services, writing press releases, providing print and broadcast interviews, crisis communication planning and response, volunteer connection and empowerment, special event planning and developing media and marketing outreach materials.
She is also responsible for many other areas such as supporting executive-level internal and external communication initiatives for humanitarian and biomedical mission, plus leading and supporting Disaster Public Affairs efforts across the Southeast and Caribbean division, to name a few. Sherri is passionate about the American Red Cross of Tennessee's mission and serving its region of 95 counties. Its mission includes being dedicated to helping victims of disaster and providing programs and services that help our community prevent, prepare for and respond to emergencies.
About Jenny Barker
Jenny Barker is an award-winning communications strategist with 20 years of experience serving publicly-traded companies, small businesses and nonprofit organizations. She loves helping brands move from friction to flow through workable systems and clear messaging. Her ability to organize, distill and simplify serves as a catalyst for clarity, progress and growth.
She achieved the Accreditation in Public Relations (APR) certification in 2008. The APR signifies personal drive, professional acumen, a commitment to ethics and a dedication to lifelong learning in the public relations profession.
Jenny is active with Public Relations Society of America (PRSA) and in the Nashville community through volunteer leadership roles with the Junior League of Nashville and Rotary Club of Nashville. She is a past board member of Oasis Center and Nashville CABLE.
She loves libraries, museums and coffee. Jenny lives in East Nashville with her husband (a videographer and aviator), their STEM-loving middle school daughter and sock-stealing puppy.
Time

(Tuesday) 11:30 pm - 1:00 pm