by Kate Whiteside
NOTE: This article was originally published in "PR Prime," a publication of Belmont University's PRSSA chapter. Get to know the chapter via their Facebook page.
PRSA Nashville provides an annual scholarship to one or more full-time public relations students demonstrating academic excellence and active engagement in their own professional development toward becoming a successful PR practitioner. Applicants must be enrolled in a college or university with a PRSSA Chapter affiliated with PRSA Nashville. Eligible schools include Austin Peay State University, Belmont University, Lipscomb University, Middle Tennessee State University and Western Kentucky University. Applications are available via www.CFMT.org.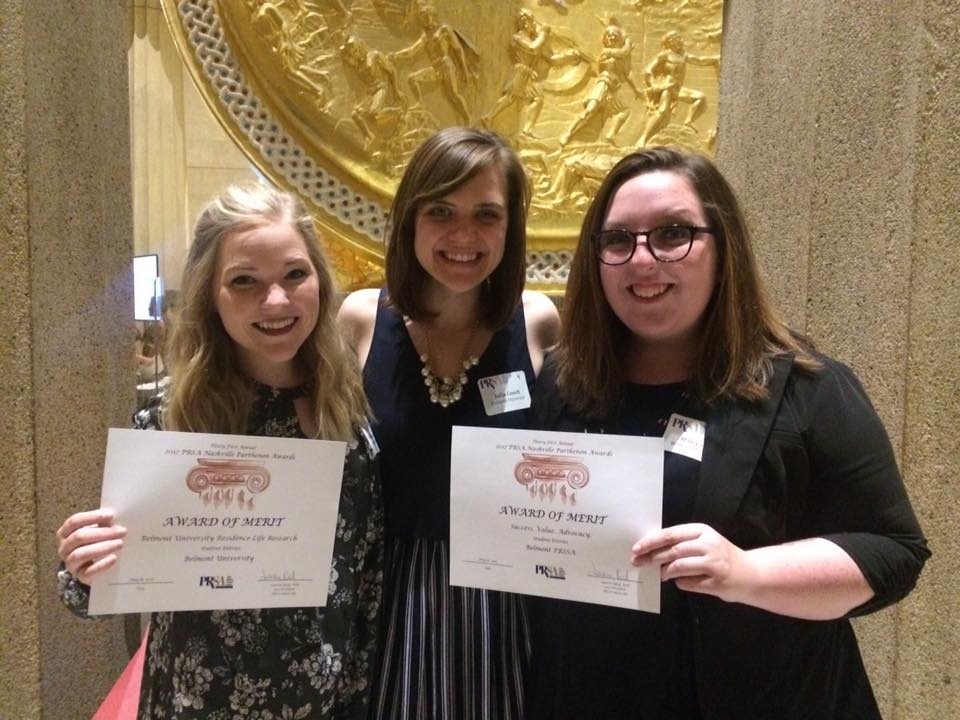 Belmont grads and students honored at the 2017 PRSA Nashville Parthenon Awards included (L-R) Callie Edwards, Julia Couch and Haley Hall.
Competing with students in five PRSSA Chapters sponsored by the Public Relations Society of America Nashville Chapter, Belmont University senior Callie Edwards received the local professional chapter's 2017 endowed scholarship. A public relations major with minors in marketing and religion and the arts, Edwards also received a PRSA Parthenon Award of Merit last year for an outstanding research project.
"The PRSA Nashville chapter is so generous and committed to supporting students like me as we develop as PR professionals," said Edwards. "I'm very appreciative and honored to receive this recognition."
The PRSA Nashville scholarship criteria outlined its search for a student demonstrating active engagement in their professional development as well as academic excellence. As she prepares for graduation in May, Edwards holds a resume that showcases her commitment to leadership and excellence. Not only has she earned a spot on the Dean's List every semester since arriving at Belmont, she has done this while being a resident assistant and a Bruin Recruiter. Her excellent academic performance is demonstrated by her membership in Lambda Pi Eta and Alpha Chi honor societies.
Edwards has developed her public relations skills throughout her time at Belmont through her active participation in PRSSA, her two-year term as an associate for Tower Creative Communications and her internships with the T.J. Martell Foundation and the Belmont University Office of Residence Life. She plans to pursue a master's degree in mental health counseling and hopes to one day have the opportunity to work in higher education, possibly in residence life.
"I've had the opportunity to walk alongside 60 women each year for the past three years as an RA in Dickens Hall," Edwards said.
"I've been impacted tremendously by my work in residence life, and I've discovered a calling to work with college students."
The 2017 scholarship award was $600 and will continue to grow in future years, PRSA Nashville leaders said. PRSA established this scholarship endowment in 2012 through The Community Foundation of Middle Tennessee, formalizing the pro chapter's commitment to investing in future public relations practitioners. Each spring, members of the Public Relations Student Society of America chapters affiliated with the PRSA Nashville chapter are eligible to apply through the Community Foundation.
Edwards is currently applying to graduate programs and said she is excited for what the future holds as she prepares to wrap up her time at Belmont and find her "from here to anywhere."