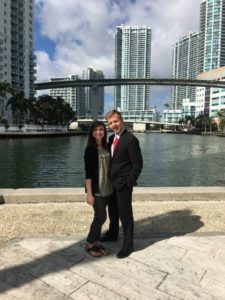 Congrats to Middle Tennessee State University (MTSU) student Andrew Young, who was recently elected president of PRSSA (2018-2019) at National Assembly in Miami.
A Nashville native, Young is a junior at MTSU where he is majoring public relations. His involvement with PRSSA began his freshman year when he was elected secretary of the MTSU PRSSA chapter. Young has held multiple positions at both the chapter and national levels. He currently serves as vice president of external affairs for PRSSA National, and will begin his term as president in June 2018.
"The Society has grown by great strides over the past 50 years, and now it's time to turn our attention to how we will grow even more over the next 50 years," added Young. "Over the next year, I plan to focus on diversity and inclusion, educational opportunities that will build hard skills, and the overall member experience. These are the areas we need to focus on in order to grow as a cutting-edge preprofessional organization."
Young will graduate from MTSU in December, and plans to pursue a career with a public relations agency.